OF COURSE, WE ADORE THE PRETTY LITTLE DETAILS AND A GOOD DANCE PARTY, BUT OUR OBSESSIONS GOES A LITTLE BEYOND THAT.
We love the logistics that make an event run smoothly. We love the high of seeing a party that has been months (maybe years) in the making finally come together. And most importantly, we love the idea of two people deciding on forever. Yeah, we're totally down with that.
We are also of the belief that you only need three things to have a wedding: a loving partner, an officiant, and some special people to witness. That. is. it. Once you've got those, everything else is just icing on the cake. (If you even want a cake! Personally, we'd never turn down a wedding pie or donut!)
We're not out to sell you a bunch of junk you don't need or push our style down your throat. We will be your biggest advocates, your sounding board, and your first line of defense against any stress and craziness. Because you deserve to be fully present on your wedding day.
Basically, our aim is to help you throw a kick-ass party that feels like you and have fun in the process.
Megan is a girl with a pretty serious party (and flower!) obsession. She studied Hospitality Management at the University of North Texas and spent her college years exploring various facets of the event industry including event coordination and dessert catering.
Celebrate Dallas is her love letter to every couple out there craving a simple wedding planning process with plenty of laughs along the way.
When she's not playing with flowers or updating her youtube channel, you can probably find her on the couch with her math-teacher husband and pups watching Parks & Rec or The Office.
Born in California but calling Dallas her "forever home", Caitlin has a unique imagination and creative style that she utilizes to help her couples create their own beautiful weddings together. As a successful event planner, she has designed + coordinated numerous events and weddings with a variety of vibrant designs.
She currently has 3 cats but desperately wants a puppy (or maybe another kitten) and almost exclusively drinks Dr. Pepper. If she's not making lists or responding to emails, you can find her in Deep Ellum with friends sipping on a Modelo or catching the newest movie at the Drafthouse.
Diana is an obsessive creator who has an endless desire to make all things lovely. She is a self-diagnosed Instagram addict and an avid high heel collector. As a crazy dog lady, she believes that every business in the world should be dog-friendly.
Rachelle is researcher and fundraiser who enjoys seeing a project from start to finish. This researcher also has a creative side and gravitates towards a clean, modern aesthetic. Rachelle will jump at any opportunity to unplug and spend time outside!
Kiara is an ambitious+ creative Texan by birth and Hoosier by heart. She's got an intense attention to detail and love for all things pretty, gold, and well-manicured. Professionally, she spends her days laughing and learning as a teacher to 86 young but, mighty fourth graders deep in the heart of Dallas. Personally, she spends her time thinking out loud, starting conversations about NCAA basketball, and enjoying good food and better books.
Dafni is a lover of all things design and beauty, both of which reflect perfectly in flowers. Before her 3 amazing kids came along, she studied business in college and is excited to have ended up in an industry so full of love and pretty things! When she's not wrangling kids or elbow-deep in flowers, Dafni enjoys unwinding with a good workout, movie and glass of wine.
Emily is a recent graduate from Texas Tech University, where she studied Petroleum Engineering. She found her passion for weddings when she planned her own in November and now there's no looking back! She loves exploring new coffee shops and binge watching The Office.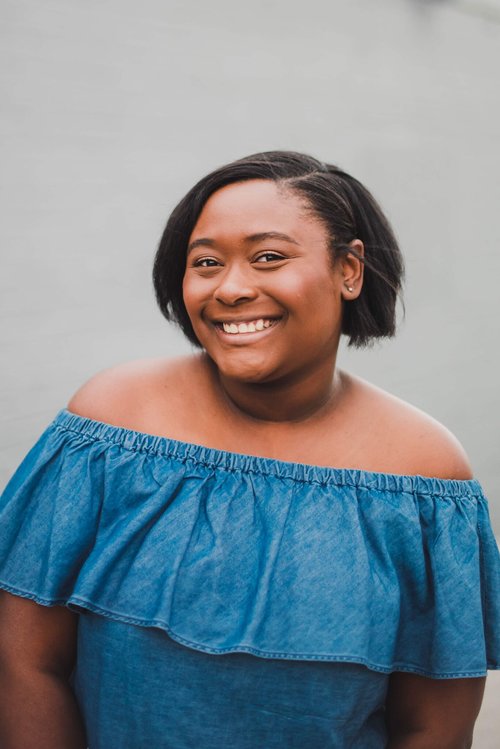 Kelly is a recent college grad passionate about all things pretty: pretty pictures, pretty places, pretty words, and especially pretty weddings! She's a recent college grad from the University of North Texas where she studied Education. Kelly spends most of her time writing about or doing makeup for weddings but in her free time she enjoys true crime podcasts, Veronica Mars, and a good photo op!
Maria is an editor who spends her days perfecting and refining educational texts before they reach children across America. She has a creative eye for design and fell in love with the beauty and complexity of weddings after planning her own earlier in 2018. Maria loves spending her free time outdoors with her husband Aaron and their rescue pup, Bodhi.