When it comes to having a first look, everyone has an opinion. I mean they either love it or they hate it. There is no middle ground on this subject. For those who don't know, a first look is a moment between the couple and their photographer when the bride and groom see each other for the first time in private before the ceremony. This breaks the traditional rule of not seeing the bride before the wedding.
Personally we're pro-first-look at Celebrate Colorfully, which is why I suggested today's Top 5! Take a peek and see if a first look is a good fit for you.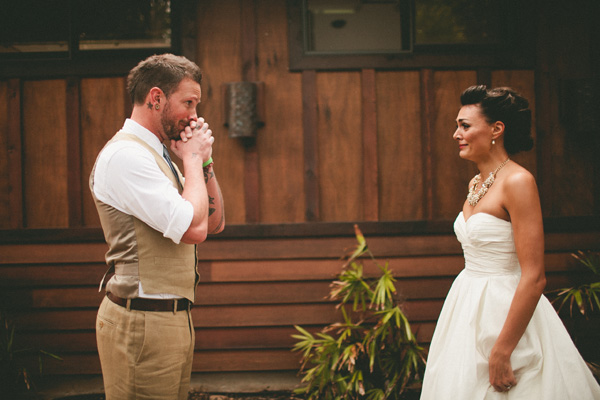 Photo | Andria Lindquist
1. Time - When you have a first look you're allowed 3-4 extra hours in the day to take all the photos you could ever want. This could be all your family photos so no one's waiting around during cocktail hour. Or joint bridal party photos around the venue property. Or even hours of intimate photos of you and your love.
Photo | April and Paul
2. Emotions - It can be overwhelming for a groom to see his bride for the first time with hundreds of eyes on him. The pressure to preform accordingly can be a heavy weight. First looks allow the bride and groom to get mushy, cry, kiss, and support each other in private. You can be genuinely yourselves together. There's still time to re-touch your mascara and lipstick before the walk down the aisle.
3. Nerves - People get butterflies. A first look calms the nerves and is said to help make couples more relaxed and happier throughout the rest of the day. We highly suggest this for anyone who might get nervous in front of crowds or just needs a little reassurance.
Photo | Levi Tijerina
4. Sunset Time - Maybe you have a 9pm ceremony start time or, perhaps, the sunset is early on your wedding day. If you want those daylight photos together, you're going to need to have a first look. I've even heard of doing a first look days or months before to get the perfect pictures.
Photo | Phil Chester
5. Required - While researching more on this topic and hunting around for the perfect reveal photos, I discovered many photographers out there won't book a client unless they agree to a first look. It allows the photographers all the benefits mentioned above. They can tell the story of the whole day rather than the the 5 hours that normally make up a ceremony and reception.
Will you have a first look on your wedding day?